With the rapid onslaught of new music coursing through our ears, many of us are looking for something authentic in music – something real. And although authentic music exists, it only exists in small doses and quantities. Oscar Stembridge, a 15-year-old singer-songwriter from Sweden, gives his listeners much more than a small dose of authenticity: he gives us what he calls his "emotional truth."
Unlike today's contemporary hyper-consumerist culture of music that follows a strict formula for likes, shares, and retweets, Stembridge's music carries themes of endless possibilities and coming-of-age optimism from his personal experiences. His music is an anthem for Generation Z, a suspended cry of hope and disparity amid a larger global socio-political struggle.
His original music echoes the concerns of his generation facing climate change, destruction of natural habitats both in the oceans and across seven continents, and the crisis brought about by wars and natural disasters.
Stembridge won the Rookie Artist of the Year at the Sweden Pop Awards in 2022 (he was the youngest awardee) for his EP titled 'Thir13en' – an EP that details the teenage anguish of being belittled by the system and the hope that follows. We must ask ourselves, "who is Oscar Stembridge?" (Newsflash: he's more than just a young kid with floppy dirty blonde hair and who speaks with an endearing British-Swedish accent)
I had the privilege recently of interviewing Stembridge and asked him that very question.
"I write songs, I play music, I sing, and I perform" Stembridge replied ever-so-humbly. But he doesn't just play music, he plays four instruments – guitar, piano, drums, bass, and then there's his vocals. Stembridge's music is amazingly eclectic and versatile.  Inspired by artists such as Ed Sheeran, Queen, Guns n Roses, Van Halen, Sam Fender, Domink Fike, Nirvana, and others, he has built up a strong global following on social media.
From a young age, Stembridge has been a musician, but he was born to perform. Whether he performs for a small, intimate crowd or a large festival, Stembridge feels calm and collected. "I'm never nervous," Stembridge laughs, "I'm just gonna have fun." And he can be seen having fun in every one of his performances – including his rendition of Journey's Don't Stop Believing in front of the Swedish Royal Family. And maybe, Stembridge was a bit nervous that one time. "It's not every day you get to play for the Royal Family," he says laughing.
Then 12-year-old Oscar Stembridge performed his cover of powerhouse American rock group Journey's Don't Stop Believin' in front of Sweden's Royal Family. (Screenshot/SVT1)
To perform without error – and without a sense of nervousness – Stembridge spends a lot of time perfecting his craft; evidenced by one's listening to Stembridge's carefully crafted album Thir13en. "The reason why it's called 13 is because I wrote It when I was 13 years," he tells the Blade adding; "That time period was a rollercoaster for me… I wasn't in the happiest place, but I came out of that. Writing this EP was very therapeutic."
Rather than embarking upon the creation of an EP alone, Stembridge shared his vulnerability with two of his friends in the process. "I wrote [Thir13en] with two of my music buddies and awesome singer-songwriters, Isa Tengblad and Kristofer Greczula." Stembridge described the process of working with Tengblad and Greczula as both positive and innovative with the vocals for the EP being recorded in Tengblad's bedroom. "It was never a static formula, and it never has been – We would bounce around as a team."
Thir13en, in all of its anguish, optimism, and truth raw in its sound, is ultimately true in its emotions and eclectic in its composition. Rather than starting with lyrics first and music second or vice-versa, Stembridge isolates that the album started out as a concept – a sound on the brink of possibility in the wake of being told what to do and how to act.
In fact, the cover of the album would be a good place to start. "[The cover comes from] a notebook that my godfather gave to me…. I wrote out the mind map for the EP – and the cover of the EP is that mind map."
 Thir13en EP cover art & design by Oscar Stembridge
As a mind map, Thir13en is incredibly cohesive in how it encapsulates the teenage lament towards a system that seeming refuses to listen.  The ep is about teenage angst but not in a punk rock type of way, more of an activism way on subjects and issues that Stembridge and his fellow Gen Zers are confronting in an increasing complicated world.
But Thir13en dares to showcase the optimism that adults seem to lose as they age but when they witness the vitality of kids like Stembridge they are able to regain hope.
From the EP, the song Young Ones is the statement that the youth has made – and has been making – regarding the older generations not listening to them. "It's like we're the enemy // Don't forget we're in the same team" // "All you do is blame it, blame it on me" // "Youth is wasted on the young ones."
In Don't Lie To Me, the chorus sounds like a group of teenagers pleading to not be lied to. "Don't lie to me // I know everything you don't want me to know."
Unlike the type of teenage angst seemingly solely directed at older adults, [read] parents not listening to them or the 'no one understands me' trope, Stembridge sings about mature themes and current events, all while finding music to be a catalyst for urging people to embrace activism.
"What if bombs were confetti," Stembridge sings in his song "What If" which posits a series of questions about how the world could be. But although Stembridge notes that he won't be the one to stop all bombs, he still has hope that he can make the world a better place.
The one cause that Stembridge continues to be a  fierce advocate for is the climate movement. "I am a climate activist and am very vocal about that," Stembridge says with certainty in his voice. As Stembridge marches alongside his friend, Greta Thunberg, herself a Gen Zer and longtime Swedish environmental activist, known for challenging world leaders to take immediate action for climate change mitigation- he stays positive about his effort to bring awareness to climate change.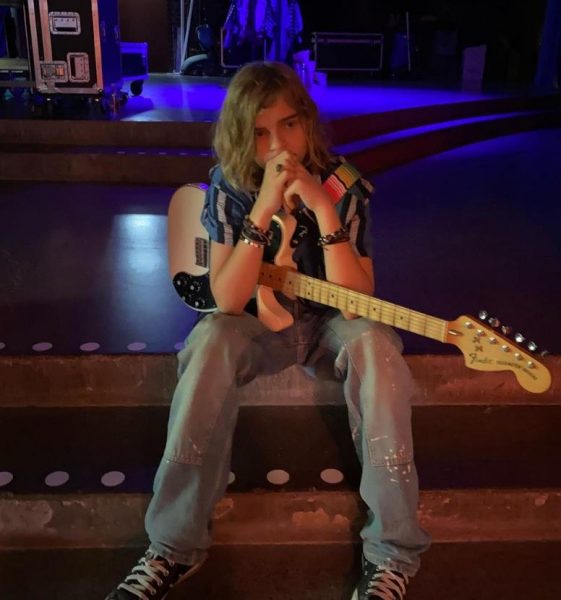 Rather than falling into apathy – which most of us seem prone to do – Stembridge uses his energy to write music. "I had a positive outlook on my song 'We March' – "we can [solve the problem] if we all march together."
Whether Stembridge plays music at the climate protest rallies or marches along with the crowd, he is sincere and passionate about his activism. "Music is the language of emotion – it breaks all norms and boundaries – it reaches a wider range of people," Stembridge stresses ecstatically.
But the climate movement isn't the only thing that Stembridge cares about. The LGBTQ+ movement has been one of Stembridge's advocacies as well. "I am 100% an ally," Stembridge says, "I think people should be able to identify themselves how they want. I don't think that anyone should be restricted to some gender thing."
Rather than adhering to someone else's view of how you should be, Stembridge's song 'Fake Front' advises the listener to be authentic. He states that "a lot of people in the world have their fake façade… you don't have to have a façade in order for people to like you– everyone should be authentic to themselves."
By playing music with an emotional truth, Stembridge believes that "a lot of people can relate to the songs and can use them as a way of helping themselves."
Although Stembridge's critically acclaimed EP Thirt13en was released just last year, Stembridge has music on the way. "I'm creating an official album release… Some of the songs I've written are really really really good" (The Blade took note that there were three "really(s)" excitedly uttered so it must be really good).
Stembridge describes that his new album is going to be a more mature version of Thirt13en; and no, it won't be called Four14en. "This is like, 'okay. I'm going to write an album now,'' Stembridge says happily. Oscar hinted that his new, unreleased music will be performed at an event in Austin, Texas on August 9, as he headlines his first ever U.S. concert.
Ultimately, Stembridge's emotional truth is one that he tells the Blade that everyone should live by. "Be who you are. Just be yourself and be confident with it because it will be great," Stembridge advises. And with a great pause, Stembridge leaves the readers with one final note: "Believe in yourself."
Stembridge is slated to perform in Los Angeles on August 2, at the Hotel Café in Hollywood and then again on August 5 in Santa Monica.
On August 9th, the Austin Film Society will present the world premiere screening of Primitive Planet Director Brian Gregory's film, 'Trust Your Wild Side with Oscar Stembridge,' a captivating documentary that follows the incredible journey so far of Stembridge.
After the screening, he will perform his first headlining concert in the USA, playing to thrill the audience with his catchy melodies and heartfelt lyrics.
LA tickets are available here: (Link)
Austin tickets are available here: (Link)
Article by Noah Christiansen first published in The Los Angeles Blade.